Hydra Cup
2.0 Dual Shaker Cup
, Ultra Pink
Preworkout + Postworkout in One Shaker
Designed To Make Your Supplementation And Hydration Extremely Efficient!
Price:
$13.60
( / Serving)
Product Overview
Additional Images:
Click to Enlarge
DUAL
PRE WORKOUT ENERGY

ready for the toughest workouts Save time a be prepared get more done
THREAT
POST WORKOUT RECOVERY
28oz Total - MIX UP TO 110G OF POWDER BPA FREE- MEDICAL GRADE PLASTIC
Hydracup lets you call the shots when it comes to pre game energy.
Instantly feed your muscles broken down by strenuous exercise.
Separate from the pack with the bottle that's ready for action. The Patented HydraCup makes your supplementation and hydration extremely efficient, delivering perfectly blended drinks for every phase of your game without needing to be refilled or remixed.
"THE WILL TO SUCCEED IS IMPORTANT BUT WHAT'S MORE IMPORTANT IS THE WILL TO
PREPARE.

"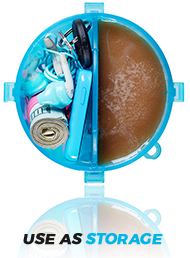 At HYDRACUP®, we believe that staying prepared both in fitness and outside of the gym is a huge key to success. That's why we created this innovative shaker bottle for our hundreds of thousands of followers in over 100 countries. With over 250,000 sold in only two years, we've added something original and fresh to an industry that was flooded with cookie cutter and knock off products. But more importantly we've helped our customers save time, stay prepared, and get more done in ways they we're unable to before - helping them take control of their fitness goals.
Separate from average. Separate from boring. Separate from the Pack.
Our Mission
Our Mission at HYDRACUP is to bring positive, motivational and fun vibes to you through our products. We don't just talk about it, we back it up. 100% of our manufacturing, assembly and design is done here in the GB. We believe in taking chances and being different, as opposed to the corporate approach of only chasing $$ signs. Which is why we strive to bring you the freshest colors & fun/motivational quotes that you've never seen before.
Did you know?
Hydracup was originally created for carrying PRE & POST workout in one shaker, but soon after we realized it can be used to replace all other shakers. The 28oz total capacity is equal or bigger than comparable shakers. Just fill both sides up with the same ingredients and when you don't need two drinks use it as a regular shaker. Even if the dual function isn't your main priority, use Hydracup just like a normal shaker and never need another shaker again!!
Ratings & Reviews