Magnum Nutraceuticals
E-Brake
, 72 Capsules
Promote Performance*
Designed to Support Healthy Estrogen Balance*
Product Overview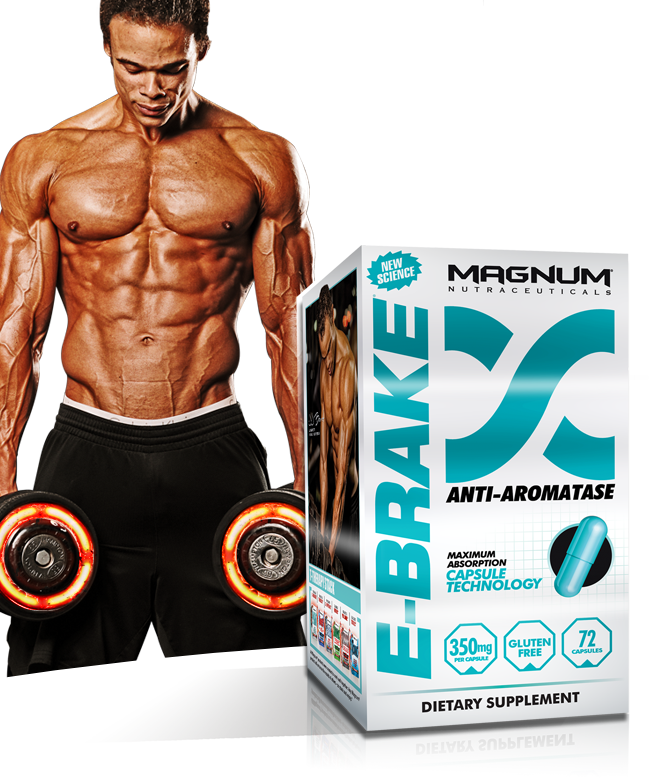 May help support Estrogen Balance*
INGREDIENTS IN MAGNUM E-BRAKE MAY SUPPORT:
Your natural hormonal balance*
Your energy levels and state of mind*
Your lean muscle mass*
Your sexual health*
Your muscle growth and strength*
A GREAT PHARMACEUTICAL GRADE SUPPLEMENT WILL PRODUCE THE FOLLOWING RESULTS:
Support muscle growth and strength*
Decrease recovery from training sessions*
Harden muscles for a more muscular and defined look*
Aid in fat loss*
Decrease water weight, allowing for a tighter and leaner looking physiques*
Support Sexual Health*
Optimize all aspects of physical performance *
WHY IS MAGNUM E-BRAKE THE BEST CHOICE TO SUPPORT ESTROGEN BALANCE?*
100% Pharmaceutical Grade ingredients for better, faster results.
Formulated to support balance in your natural hormonal levels and maximize them for best results.*
Encapsulated for maximum absorption – delivering the same effective dose every time you take it as compared to tableted anti-estrogen products.*
University studied and clinically tested ingredients
A study published in the Journal of Ethnopharmacol showed that the extract of Turnera diffusa and two isolated compounds, pinocembrin and acacetin, could help support healthy aromatase activity.* The compounds apigenin 7-glucoside, Z-echinacin and pinocembrin showed estrogenic activity. Acacetin was the only isolated compound in Damiana that supported aromatase balance without raising estrogen levels.*
Anti-aromatase activity of the constituents from damiana (Turnera diffusa).
Authors: Zoe J, Dasmahapatra AK, Khan SI, Khan AI.
Source: Journal of Ethnopharmacol. 2008 Dec 8; 120(3):387-93. Doi: 10. 1016/j.jep.2008.09.016.
Magnum E-BRAKE® is formulated using the most researched natural ingredients such as Acacetin (99%) (4'-Methoxy-5,7-dihydroxyflavone) a natural flavone that is found in the Damiana (Turnera diffusa) plant. Traditionally, the Damiana Plant was used to support sexual health.*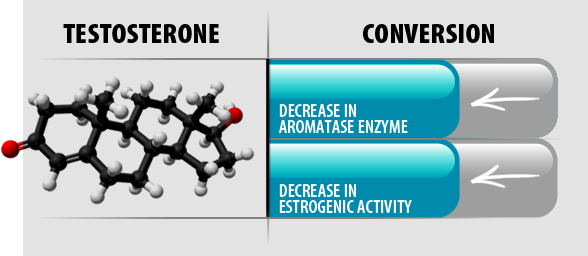 Magnum E-Brake® was formulated with the necessary clinical dose of Acacetin needed to support aromatase enzyme balance.*
Magnum E-BRAKE® also has a clinic dose of Brassaiopsis glomerulata, which contains a variety of active components.* The most potent of these are Dehydrololiolide and N-Benzoyl-L-phenylalanine. Both ingredients are suggested for their ability to slow down the conversion of testosterone into estrogen.* American researchers recently suggested that the extract of Brassaiopsis glomerulata leaves may help support a healthy estrogen to testosterone ratio.*
A study done at the Chinese University of Hong Kong suggests that plasma Hesperedin test subjects supported estrogen balance.*
Support healthy estrogen balance.*
Authors: Ye L, Chan FL, Chen S, Leung LK. J Nutr Biochem.
Source: Biochemistry Programme, School of Life Sciences, Faculty of Science, the Chinese University of Hong Kong. 2012 Oct;23(10):1230-7. doi: 10.1016/j.jnutbio.2011.07.003. Epub 2011 Dec 30.
One of the lesser known, but incredibly effective ingredients in E-BRAKE® is Hesperidin, a water-insoluble flavonoid glycoside that is found primarily in the peel of citrus fruits. As an added benefit, Hesperidin is also an effective anti-oxidant that may be useful during intense exercise training.*
Studies demonstrate that the inclusion of Hesperidin in Magnum E-Brake® supports estrogen balance.*
Stinging Nettle Leaf 4:1 Extract: A perennial flowering plant that is native to Europe, Asia, Northern Africa, and North America. Many studies suggest Stinging Nettle Leaf's ability to support estrogen balance.*
A study in the Journal of Herbal Pharmacotherapy found that stringing nettle may support DHT balance.*
Urtica dioica.
Authors:Safarinejad MR.
Source: Department of Urology, Urology Nephrology Research Center, Shaheed Beheshti University of Medical Sciences, Tehran, Iran. Journal of Herbal Pharmacotherapy. 2005;5(4):1-11.
Stinging nettle (Urtica dioica) was highly beneficial in comparison to a placebo in supporting balance in DHT in test subjects.*
Pygeum Bark (Standardized for Phytosterols): Derived from the bark of Prunus Africana, this compound may help support a healthy inflammation response to training.*
WHO NEEDS MAGNUM E-BRAKE?
Anyone wanting to get lean and dry*
Anyone wanting to build lean muscle tissue*
Anyone wanting to support healthy estrogen balance.*
Anyone wanting to support healthy estrogen balance.*
MAGNUM E-BRAKE WAS FORMULATED WITH THREE GOALS IN MIND:
Ensure you are being supplied with the best ingredients available*
Allow athletes to maintain their gains and support hormone balance*
FREQUENTLY ASKED QUESTIONS
Are there any products you recommend to take with Magnum E-BRAKE®?
Yes, Magnum E-BRAKE® has been formulated to work synergistically with Magnum THRUST®, Magnum G-SPRING®, Magnum MIMIC®, Magnum VOLUME®, and Magnum TONIC®. But Magnum E-BRAKE® can also be combined with any of Magnum's products for your own unique stack.
When is the best time to take Magnum E-BRAKE®?
Magnum E-BRAKE® is best taken 30 minutes before bed.
Ratings & Reviews
What's in Magnum Nutraceuticals E-Brake
Serving Size: 3 Capsules

Servings Per Bottle: 24

Amount Per Serving

% Daily Value

Vitamin D3

400 IU

100%

Brassaiopsis Glomerulata (Standardized for Dehydrololiolide)

500 mg

†

Acacetin (4'-Methoxy-5,7-dihydroxyflavone)

100 mg

†

Hesperidin

100 mg

†

Pygeum Bark (Standardized for Phytosterols)

100 mg

†

Stinging Nettle Leaf 4:1 Extract (Equivalent to 480mg of Stinging Nettle Powder)

90 mg

†

Piperine Extract (95%)

5 mg

†

† Daily Value not established.

Other Ingredients:

Microcrystalline Cellulose

, Silicon Dioxide

, Magnesium Stearate

, and Certified Halal and Kosher Gelatin Capsules

, (FD&C Blue 1).
Directions For E-Brake: Take 3 capsules 30 minutes before bed.
Warnings: Do not use if you are under 16 years of age, pregnant or nursing. Consult your physician before use if you have a medical condition or are taking any prescription drugs.
* These statements have not been evaluated by the Food and Drug Administration. This product is not intended to diagnose, treat, cure, or prevent any disease.
---