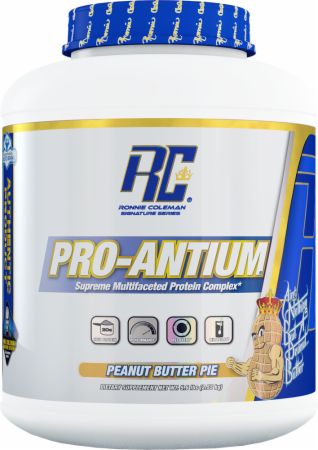 Ronnie Coleman Signature Series
Pro-Antium
Supreme Multifaceted Protein Complex!
Contains Multifunctional Blend Of Fast, Medium And Slow Acting Proteins For Optimal Recovery!*
Product Overview
SUPREME MULTIFACETED PROTEIN COMPLEX
Double Chocolate Cookie
Strawberry Shortcake
Vanilla Wafer Crisp
30g Protein Per Scoop*
5g Creatine*
2.5g Betaine*
REAL Cookie Pieces*
3g Sugar*
MAX Recovery*
Perormance*
50 Scoops
The Difference
PRO-ANTIUM® is a multifaceted protein blend intended for complete recovery. This multifunctional blend contains a precise combination of fast, medium, and slow digesting proteins for optimal recovery providing you with a continuous stream of protein long after your workout is complete.*
PRO-ANTIUM® doesn't just stop at the protein blend. We have also added 5g of creatine and 2.5g of betaine which have been scientifically proven to support strength, power, and athletic performance. Betaine supports the efficiency rate at which the body absorbs protein, creatine, and amino acids into muscle cells by improving the body's ability to break them down. *
The Perfect Combination
Betaine is highly synergistic when taken with creatine and protein. Betaine may lead to a higher concentration of creatine in the body as well as aiding in more efficient absorption and utilization of supplemental creatine. Betaine can also help the stomach to help break down proteins. New research supports that Betaine can directly support muscle power and strength. *
Protein plays a CRITICAL role in recovery after a workout and beyond. It provides the Aminos necessary to help REBUILD muscle tissue, supports water absorption to hydrate muscles and can help support the immune system. 30G of FAST, MEDIUM & SLOW digesting proteins keep feeding your muscles long after your workout.*
Getting all of the quality PROTEIN you need in one shake without being able to SLUG it down just doesn't cut it. The REAL COOKIE PIECES in PRO-ANTIUM® deliver a MILKSHAKE taste with seamless mix-ability every time making slamming down your shake a TREAT not a CHORE.*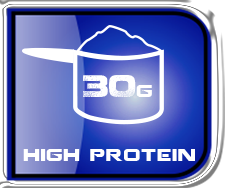 No matter what your PHYSICAL goal may be having a TOP QUALITY HIGH PROTEIN powder handy at all times will help you reach that goal. 30G of protein PER SCOOP puts PRO-ANTIUM® at the upper echelon of the protein game.*
PROTEIN (30G), CREATINE (5G), & BETAINE (2.5G)… The perfect combination. Research supports that betaine and creatine may directly SUPPORT muscle POWER & STRENGTH.*
Ratings & Reviews
What's in Ronnie Coleman Signature Series Pro-Antium
Serving Size: 1 Rounded Scoop (51g)

Servings Per Container:

50

Amount Per Serving

% Daily Value

Calories

170

Calories From Fat

20

Total Fat

2.5 g

3%‡

Saturated Fat

1 g

5%‡

Trans Fat

0 g

†

Cholesterol

80 mg

27%

Sodium

150 mg

7%

Potassium

190 mg

4%

Total Carbohydrate

8 g

3%‡

Dietary Fiber

1 g

4%‡

Sugar

2 g

†

Protein

30 g

60%‡

Creatine Monohydrate

5 g

†

Betaine Anhydrous

2.5 g

†

‡ Percent Daily Values are based on a 2,000 calorie diet.

† Daily Value Not Established.

Ingredients:

Protein Complex (Whey Protein Concentrate

, Milk Protein Isolate

, Calcium Caseinate

, Whey Protein Isolate

, Micellar Casein

, & Egg White Albumin)

, Maltodextrin

, Natural and Artificial Flavors

, Gum Blend (Cellulose

, Xanthan

, Carrageenan

, & Dextrose)

, Flour

, Salt

, Sucralose

, Acesulfame Potassium

, Creamer (Sunflower Oil

, Maltodextrin

, Sodium Caseinate

, Mono and Diglycerides

, Natural Tocopherols

, & Tricalcium Phosphate)

, Enzyme Blend (Protease

, Amylase

, & Lactase)

, & Soy Lecithin (as an emulsifier).

ALLERGEN WARNING: CONTAINS INGREDIENTS FROM MILK, EGG, SOY AND PEANUTS. Made in facility that also processes wheat, peanuts, tree nuts, fish and crustaceans/shellfish products.
Directions For Pro-Antium: Take 1 scoop with 6-8 oz. of cold water or your favorite beverage. Vary the amount of your chosen liquid to acquire your desired flavor and consistency. Drink as needed including after your workout to acheive your bodybuilding and fitness goals. To further increase protein intake and to create a milkshake-like consistency, try adding fat-free or low-fat milk in place of water. Use in conjuction with a proper diet and exercise regimen to maximize results.
Warnings: KEEP OUT OF REACH OF CHILDREN. Must be 18 years old or older to purchase and/or use this product. Before taking PRO-ANTIUM® or any dietary supplement seek advice from your physician if you are unaware of your current health condition, have any pre-existing medical condition(s), taking any medication(s), planning any medical procedure, pregant, nursing or contemplating pregnancy. This product contains chemicals known to the State of California to cause cancer and/or birth defects or other reproductive harm. Reduce or discontinue use if you have any adverse reactions such as but not limited to gastrointestinal irritation. Keep out of reach of children and pets. Store in a cool, dry place. Protect from heat, light and moisture.
* These statements have not been evaluated by the Food and Drug Administration. This product is not intended to diagnose, treat, cure, or prevent any disease.
---